The content in this blog post comes from Karen Conrad on episode 63 of The WealthBuilders Podcast, '5 Profitable Ways to Improve a Fix and Flip.'
If you are a real estate investor, you should care about fix and flips. Here's why: most of us don't have an unlimited bank account and fix and flips are a way to generate cash for a down payment. A good cycle to stick to would be to purchase two to three buy and holds, then do a fix and flip to get a cash infusion, and repeat the process.
I enjoy the creative process of fix and flips, and I usually fall in love with every property I work on with my husband, Dave, and my son, Levi. However, it is easy to get carried away and make repairs that cost you rather than making you money! Through trial and error, we have learned the fixes that are appealing to buyers, drive up the home value, and generate a good ROI. So, in this blog, you will learn five profitable ways to improve a fix and flip.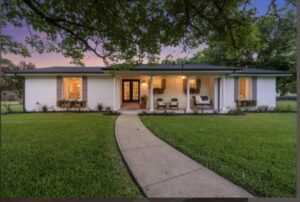 1. Curb Appeal
As Billy Epperhart says, you make money when you buy, not when you sell. When you choose a house to fix and flip, you don't want to pick one that already looks nice and has several offers. You want to buy one that you can get for cheap, fix up, and sell for more than your purchase price. However, first impressions of a home are incredibly important. People will start making their decisions as soon as they see the exterior, so a good portion of your fix and flip budget should go toward curb appeal.
When we first bought a fix and flip that we've affectionately named 'The Coastal Cottage,' it needed a lot of love. The exterior was a dingy orange with 'cat poop brown' shutters. It needed a new roof, so we negotiated to split the price with the sellers. We changed the roof to a charcoal gray and painted the exterior alabaster white. The front porch was stained, so we painted it with concrete stain. It looked brand new! We also created depth and charm with flower boxes and added a new door. Including landscaping, we spent $13,000 on the exterior, which was well within our budget.
2. The Kitchen
The kitchen represents warmth, hospitality, and gathering with loved ones. Consequentially, it is an area that can really woo potential homebuyers! Fix and flippers often start with the cabinets—they usually catch the eyes first. It can be tempting to replace all the cabinets, but that can cost tens of thousands of dollars. The Coastal Cottage had ugly oak cabinets, but they were of excellent quality! So, we gave them a fresh coat of paint (and saved about $27,000.)
Next, you want to consider your counter space. Something you can do to maximize that space is purchase (or have someone build) a portable island. In the Coastal Cottage, we switched out the countertops for Calcutta quartz and put the same finish on the island. In addition, updating hardware is always a good idea (at least 60% of buyers say they will pay extra for new appliances.)
3. The Bathrooms
Bathrooms are a must when you improve a fix and flip, but expenses can add up quickly. So, it is essential to discern the most important and influential changes. If you can, avoid replacing the bathtub. In areas where it is chipped, you can use special bathtub paint. It's costly to get into the plumbing of a new tub and/or shower! In the Coastal Cottage, that looked like an improved vanity, quartz countertops, new handles on the sink, round mirrors with vinyl dressing, and improved lighting. Keep in mind that cultured marble is a cheaper yet classy alternative to quartz.
4. The First 7 Seconds
Like curb appeal, the first seven seconds after a potential buyer walks inside a property are crucial. They will make or break your sale. Most people make a decision in 7-10 seconds. So, instead of stressing to make the whole house perfect, focus your repairs on the areas that people see right off the bat.
With the coastal cottage, this looked like creating an open floor plan. Use the same paint, flooring, and design elements in each room to create a flow—it makes it feel like there is one big room rather than several separate spaces. Rethink how you arrange the rooms and furniture—a family room could be dining room space, for example.
5. The Décor
Implement décor that will appeal to potential buyers. You want their senses to come alive when they enter the home. I use black light fixtures, and I often change the door hinges and handles to black as well. Flooring is also significant. Choose colors that give warmth and charm—grey flooring can make the house feel cold. In terms of painting, my favorite colors are Alabaster (for cabinetry or panel), Repose Grey (for most of the walls), and Sealskin (all from Sherwin Williams.)
Lastly, stage the home! Rearrange furniture, add artwork, pillows, and candles, and reduce your personal items. There are plenty of home staging companies you can hire to do this for you. Statistics show that you can make a 10-15% ROI from staging alone. It is truly the factor that can make a house feel like a home.
I hope these tips have inspired your creativity and given you practical knowledge you can apply when you improve a fix and flip. If you want even more examples and explanations, listen to the episode of The WealthBuilders Podcast that corresponds to this blog. And join us for our Livestreamed Real Estate Workshop, April 22-24!  You will learn strategies and financing tips to optimize how you invest in real estate. The knowledge will give you an ROI that's well worth the price of the ticket! Click here to learn more.