Living out of your purpose allows you to work and walk in peace, joy and satisfaction. It gives you the ability to recalibrate your life balance. Your purpose helps you focus on why you do what you do. And God supplies unlimited support with guaranteed success for your purpose. Living out your purpose is a Win–Win scenario.
Walking out your purpose makes you safe for wealth, promotion and even fame. It is important to keep your identity solid in Christ and acknowledge that all the gifts and talents in your life are from the Father.
'Every good thing given and every perfect gift is from above; it comes down from the Father of lights [the Creator and Sustainer of the heavens], in whom there is no variation [no rising or setting] or shadow cast by His turning [for He is perfect and never changes].' James 1:17 AMP.
The true nature of God allows you to relax and trust His plan for your life. He will ensure your gifts are utilized and valued. You have no need to contend for promotion or recognition. He promises to bring the increase.
Believing for success,
Karen

Perceiving NEW Things! Praying Our Promises
We experience joy and power when we pray in alignment with God's promises. In today's video, we embrace the exciting new things that He has promised for our lives. We marvel too at how God positions us to perceive these opportunities: they flow out of His presence!
"Behold, I am doing a new thing; now it springs forth, do you not perceive it? I will make a way in the wilderness and rivers in the desert." -Isaiah 43:19 (ESV)
Join my husband Dave and me for Heart to Heart, as we spend time each week learning to experience God in a personal way and practice those things in the Word that bring abundant life to our everyday.

Subscribe to Heart to Heart's YouTube playlist to be notified of new episodes!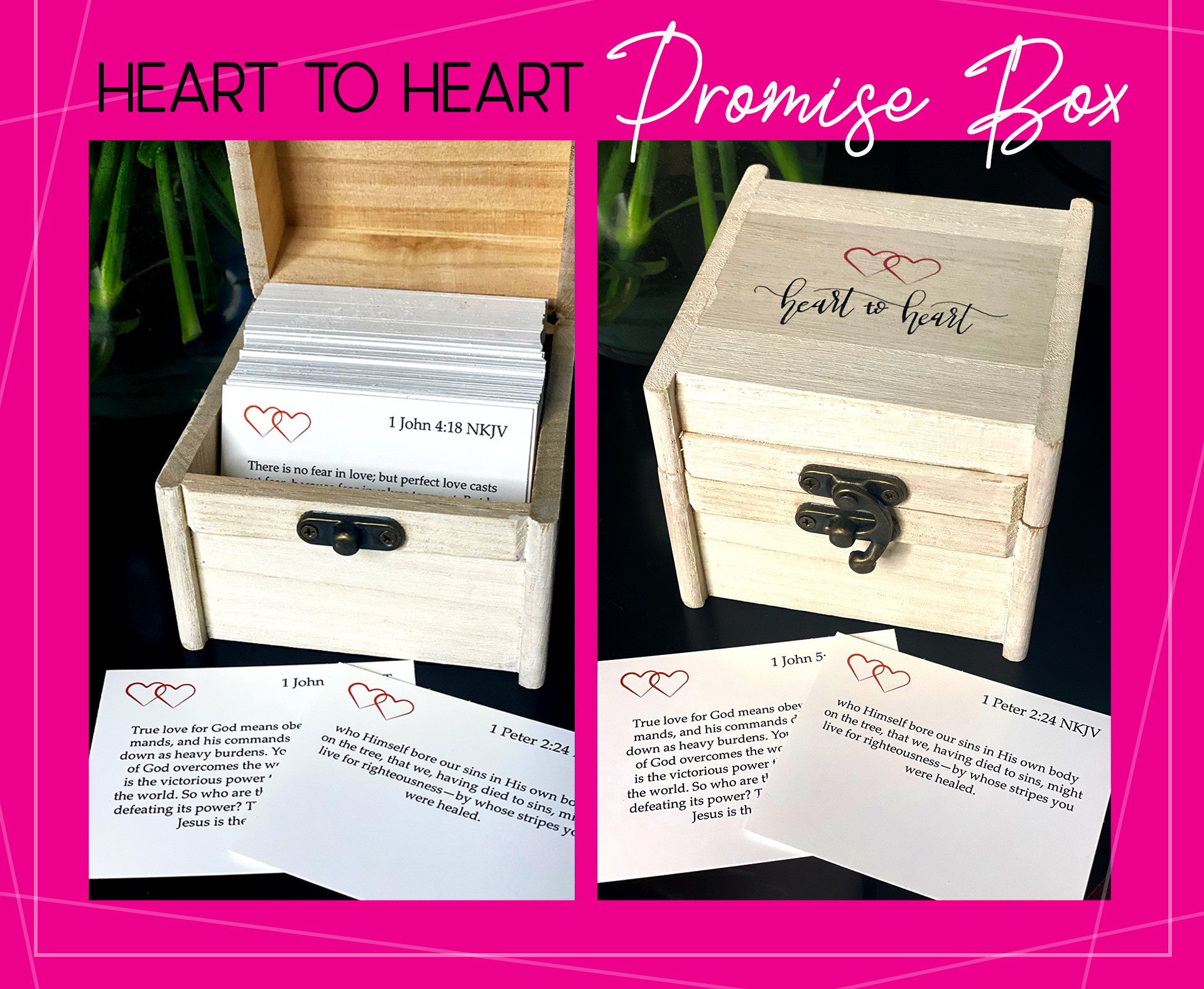 Heart to Heart Promise Box
When Dave and I started the Heart to Heart series, it was based on a box of scriptures he had received from his Grandma Esther. The 90-year-old box contains scripture promises that have been prayed in Dave's family for several generations. Dave and I have made praying scripture part of our daily routine together and we had an idea. What if we made our own box and filled it with promises in our favorite translations? Well, that is just what we have done.
The box is hand painted and contains over 120 scripture cards. We currently have only 50 of these boxes ready for shipment, but we wanted to make them available to our faithful donors. For a donation of $100 to Karen Conrad Ministries, we will send the first 50 people one of the Promise Boxes as a gift. We are so grateful for your partnership with us and we pray for you often. Thank you for joining us on this heart to heart journey. Have a great year!
Blessings,
Dave and Karen